Goal Zero Lighthouse 400 Lantern & USB Power Hub
RM419.00
Estimate Delivery
3 - 7 Days
RM

8.38 Cashback
2-in-1 lantern and USB power hub
Bright 400 Lumens LED light
Collapsible legs easy to stand, hang, store
Run time up to 48 hours
Cell capacity: 4,400 mAh
Compare
Goal Zero Lighthouse 400 Lantern & USB Power Hub not only is a rechargeable 400 Lumens light lantern but also the brightest. Not to mention, its enough power to charge phones as well as tablets even off grid. Moreover, with its built-in handle collapsible legs provide a stand for maximum light dispersion and fold in for convenient storage. In fact, can easily hang it, stand it as well as store it. Furthermore, it can be charge in 3 ways including from any USB port or from a Goal Zero Nomad Solar Panel.
Features :
Directional as well as adjustable LED light
Dualite directional lighting utilize bright LED light
Unique reflection design
In this case, allows for the optimal amount of quality as well as usable light
Three ways to charge
Recharge from the sun by connecting a compatible solar panel in about 7-14 hours
Can also re-charge from a USB Source in about 5 hours
Also, when really in a pinch, use the hand crank to get 10 minutes of light for every 1 minute of cranking
Cell capacity: 16.3 Wh (3.7V, 4400mAh)
Shelf life: keep plug in, or charge every 3-6 months
Weight: 1.1 lbs (498 g)
Dimensions: 4.5 x 5 x 6.5 in (11.4 x 12.7 x 16.5 cm)
Light LED (output): 2x3W
Run time: one side lit: 48 hours (low), 6 hours (high) both sides lit: 24 hours (low), 2.5 hours (high)
Ports :
USB port (output): 5V, up to 1.5A (7.5W max), regulated
USB port (input): 5V, up to 1A (5W max)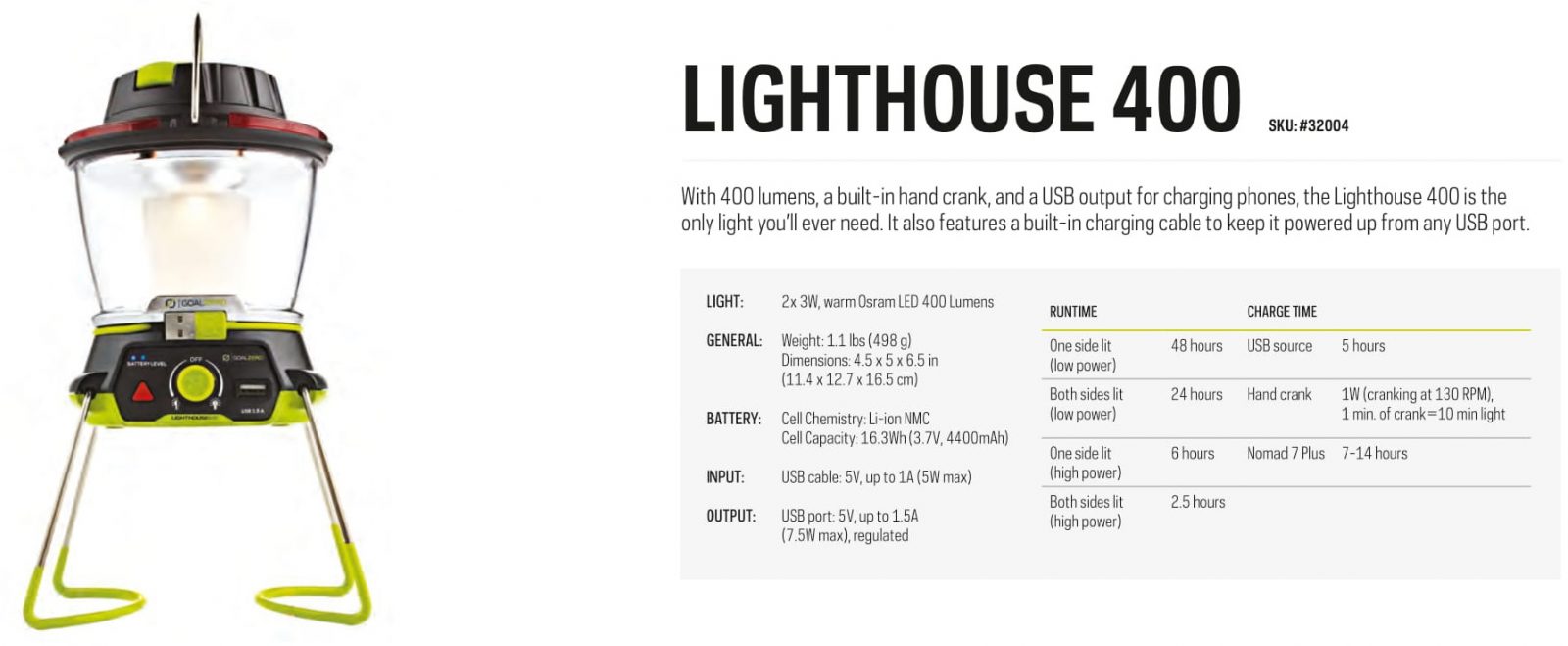 IMPORTANT NOTE : Warranty for this product is up to 12 months from the day a completed purchase has been made. An original receipt and packaging should be keep in a good condition to be able to apply for a warranty. Otherwise, your warranty will be reject and unfortunately cannot be claim.
No more offers for this product!
General Inquiries
There are no inquiries yet.