Goal Zero Lighthouse Core Lantern & USB Power Hub
RM269.00
Estimate Delivery
3 - 7 Days
RM

5.38 Cashback
USB rechargeable lantern and phone re-charger all in one
Adjustable brightness and direction
Extended run times up to 500 hours
Fold-down legs for maximum light dispersion
Built-in hook and magnets for versatile mounting
Two ways to charge
Compare
Goal Zero Lighthouse Rechargeable Mini Lantern similarly can light up any situation with 210 Lumens of bright LED light. Moreover, brightness and direction can be adjust for extended run times, up to 500 awesome hours during outdoor. Worry lest as it can be charge in two ways, whether to charge it from the sun by connecting a compatible solar panel in about 4-6 hours as well as can re-charge from a USB source in about 4 hours. In other words, this mini lantern is a 2-in-1 Goal Zero Lighthouse Rechargeable Mini Lantern as well as phone re-charger all in one.
Features :
Fold-down legs for maximum light dispersion
Built-in hook and magnets for versatile mounting
Plug into any USB port with the built-in charging cable
Charges in about 4 hours from port
Two ways to charge
Cell type: Li-NMC, 18650 by LG chem/Samsung
Cell capacity: 11.1 Wh (3.7V, 3000mAh)
Life cycle: 300+ with recommended use
Shelf life: charge every 3-6 months
Management system: charging and low-battery protection built-in
Weight: 8 oz (226.8g)
Dimensions: 2.91
Dia. x 4.51 in (73.8 Dia x 105.5 mm)
Light LED (output): 5W max, 210 Lumens, 3500K
LED's run time one side lit: 500+ hours (low), 7 hours (high) both sides lit: 400+ hours (low), 4 hours (high)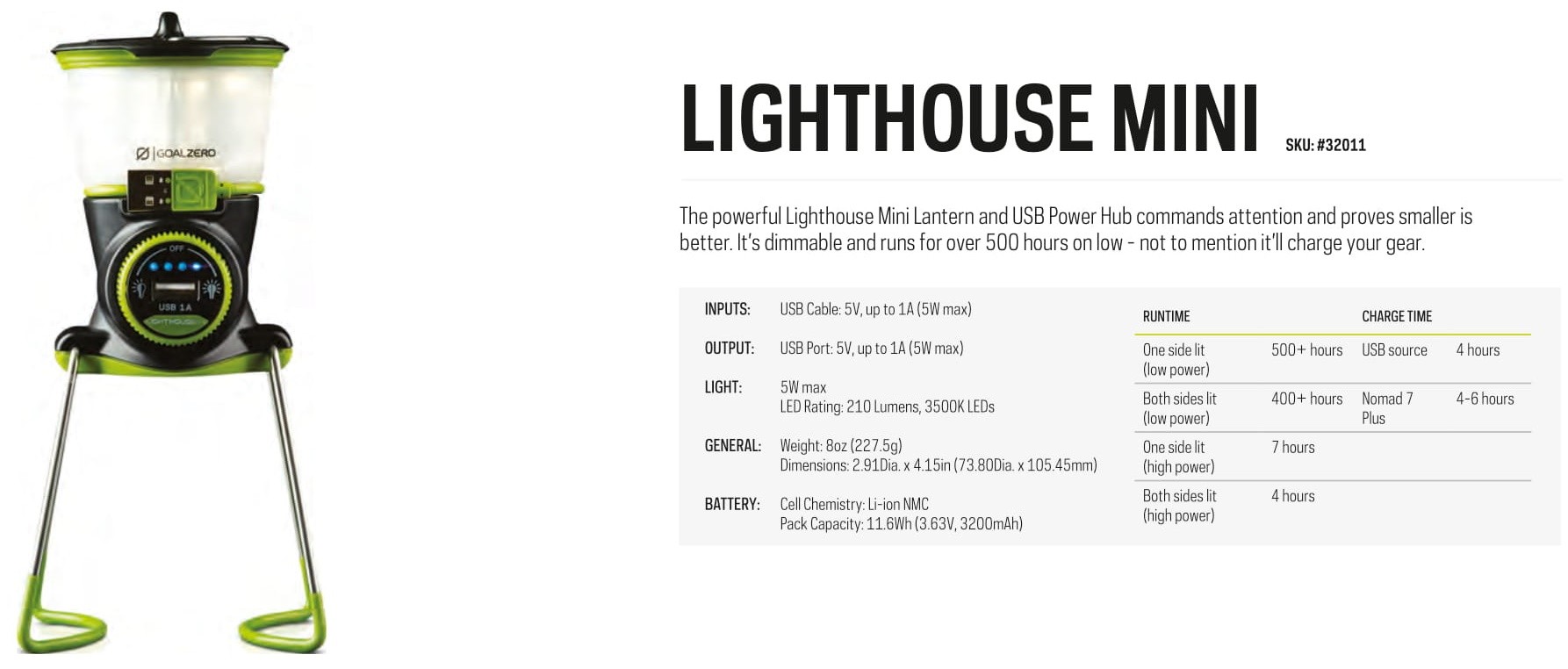 IMPORTANT NOTE : Warranty for this product is up to 12 months from the day a completed purchase has been made. An original receipt and packaging should be keep in a good condition to be able to apply for a warranty. Otherwise, your warranty will be reject and unfortunately cannot be claim.
No more offers for this product!
General Inquiries
There are no inquiries yet.