THERMOMETER NON-CONTACT LED DISPLAY SCREEN DIGITAL TOP HIGH INFRARED FOREHEAD THERMOMETER FOR ADULTS BABY AND KIDS 4cm x 6.5cm x 14cm
RM220.00
Estimate Delivery
RM

4.40 Cashback
NON-CONTACT LED DISPLAY SCREEN DIGITAL TOP HIGH INFRARED FOREHEAD THERMOMETER FOR ADULTS, BABY AND KIDS
Compare
NON-CONTACT LED DISPLAY SCREEN DIGITAL TOP HIGH INFRARED FOREHEAD THERMOMETER FOR ADULTS, BABY AND KIDS
Design – Backlight LCD digital display, Lightweight to hold.
Easy to Use – Just press the trigger to start measuring body temperature and the result will be out instantly.
Non-Contact – Infrared technology enables the device to read body temperature without physical contact, thus preventing cross-infection.
Accuracy – Ideal for the forehead and have a slightly small error margin of 0.2°C.
High-Temperature Alarm – Different backlight color for different temperature range under BODY mode.
Measuring Method:
Place the thermometer in the middle of the forehead and keep it vertical, about 2-5cm away from the forehead, then press the measure key, the device will make a beep sound one second later, and the measurement data will be shown on the display screen. The measurement is done. if the measurement value exceeds the temperature alarm point (the default value is 38 degrees), the device will make continuous beep warning sound.
Measuring mode: Infrared Non-Contact
Measuring Distance: 2-5cm
Measuring temperature range: 32°C-42°C
Sound effect: buzzer, 30 decibels, switch control
Accuracy of temperature measurement: Plus, or minus 0.2°C
Storage: store key information
Low power alert: Show the battery information on the screen
Low power consumption: Automatically turn off the device after 15 seconds without operating
Battery: 2x AAA batteries (not included)
What's Inside The Package : 1 X Infrared Thermometer , 1 X User Manual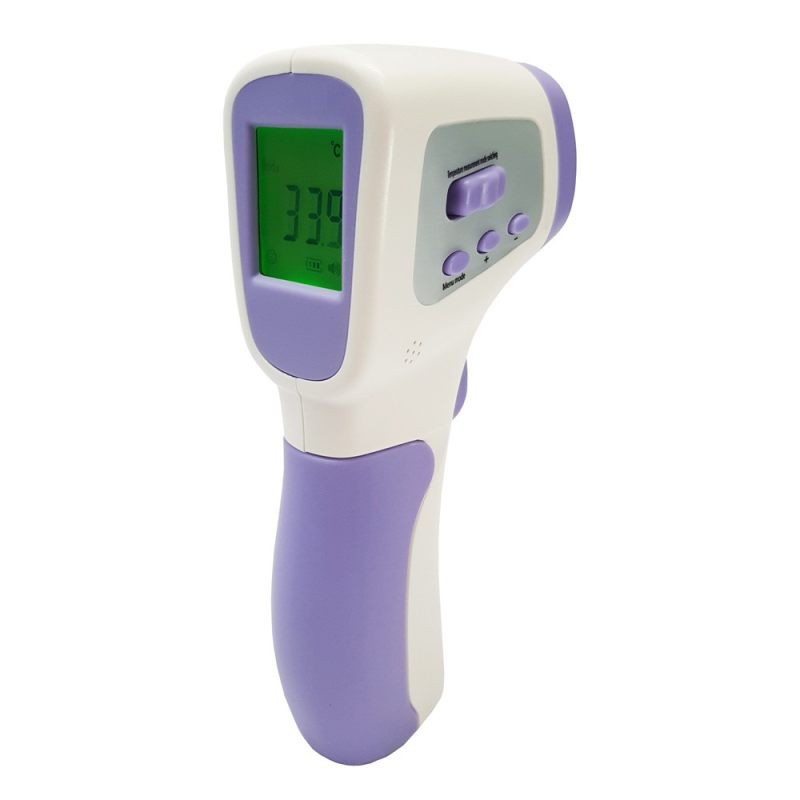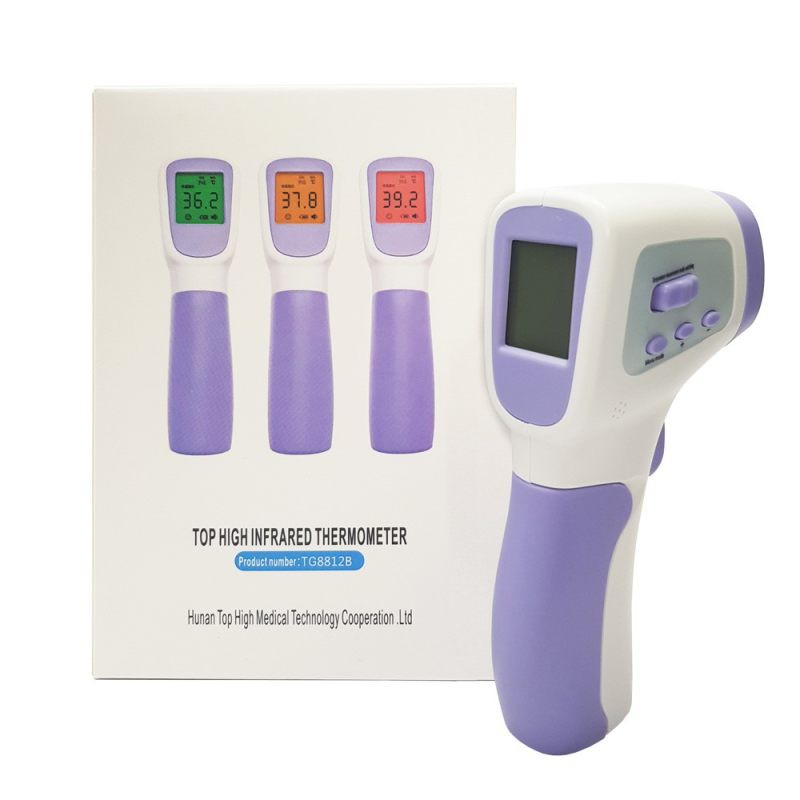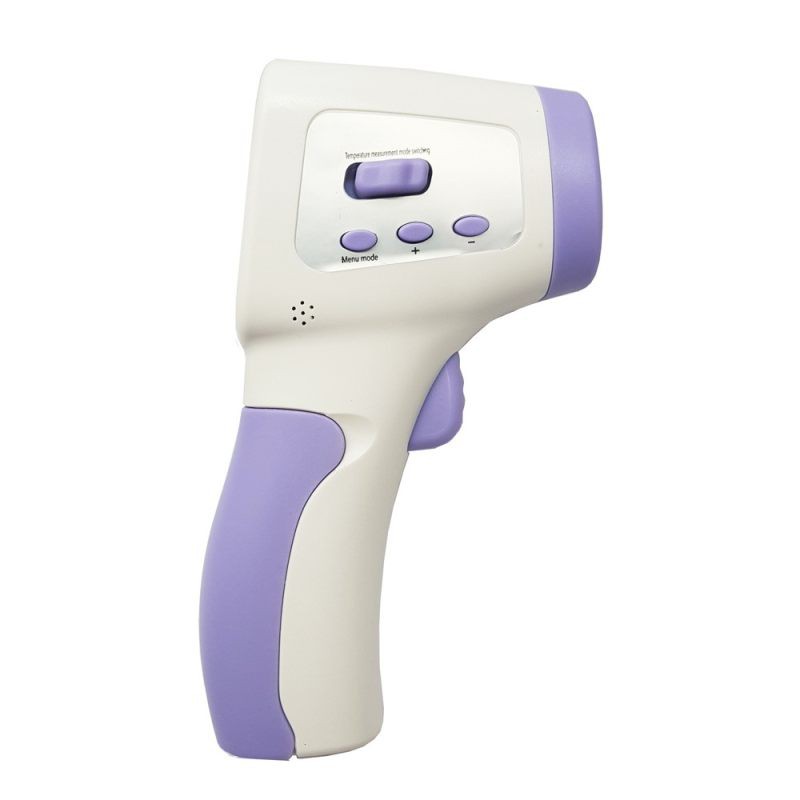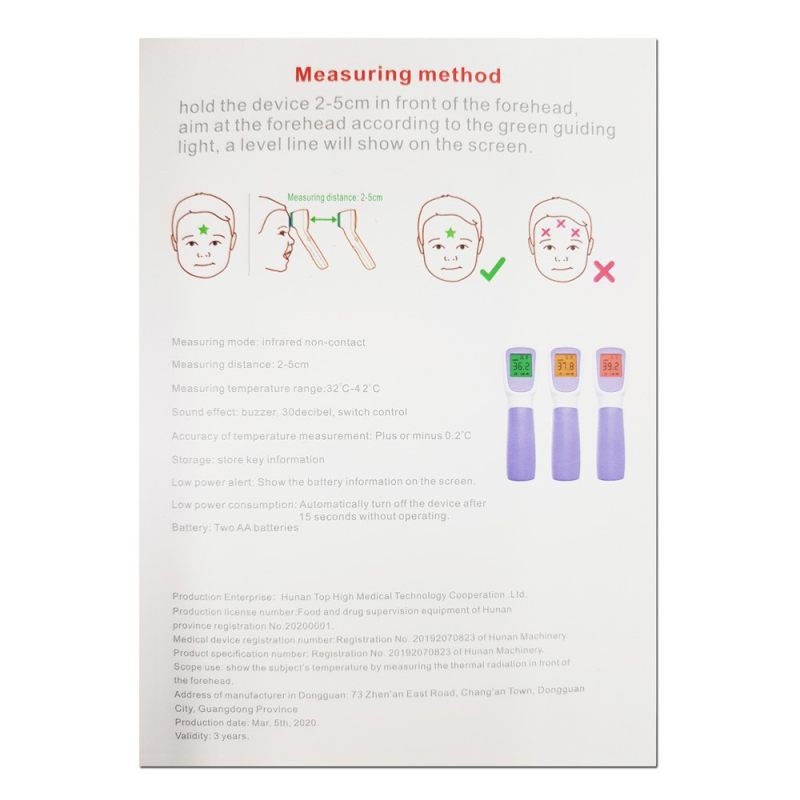 No more offers for this product!
General Inquiries
There are no inquiries yet.